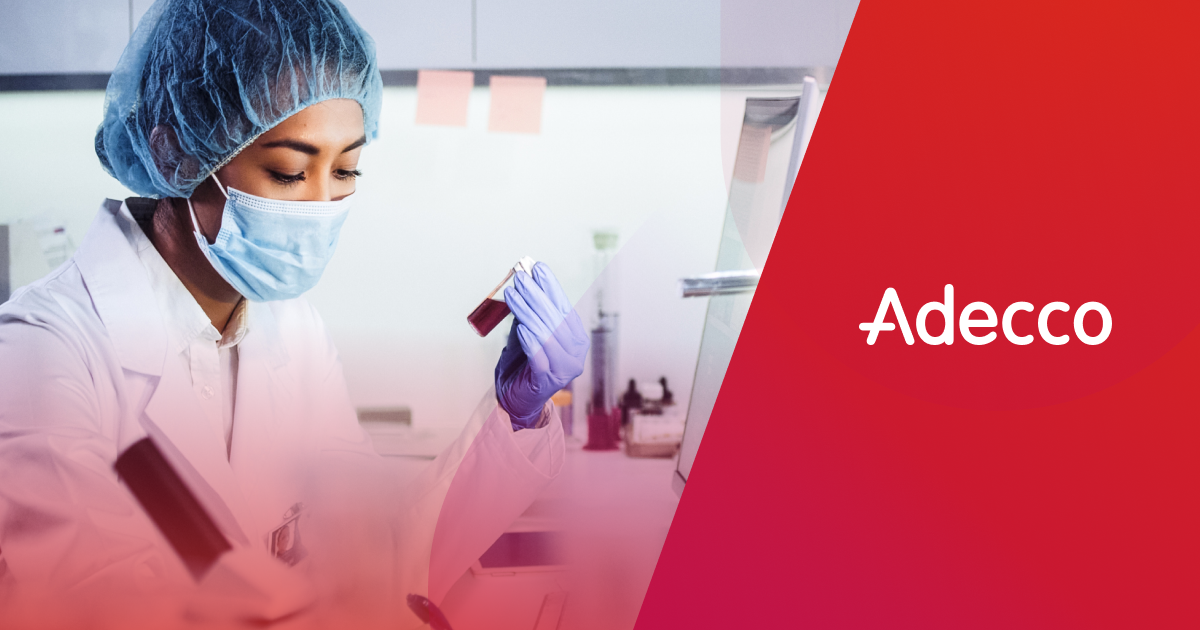 Amidst the hectic environment of the pandemic, the life sciences industry has been challenged with many factors in hopes to eventually move forward into a post-pandemic world. Among these challenges, was the quick turnaround of developing, testing, and distributing the COVID-19 vaccine. Additionally, testing for viruses, in general, has been challenged to ensure accuracy and safety moving forward.
Within the life sciences vertical, Adecco provides innovative solutions for research, development, and testing laboratories across the U.S. which enable our customers to flexibly manage their workforces, and our associates to flexibly manage their careers. Our extensive experience in the life sciences space allows us to source, screen, and retain niche science talent compliant with specific licensing and labor laws.
As our teams continue to monitor the status of the pandemic and what's ahead in 2021, let's take a closer look into how the virus continues to impact the industry.
Looking Back at 2020
COVID-19 put enormous strain and stress on many people and businesses, as many healthcare systems across the globe scrambled to do their part in fighting the virus. According to this article by the Decisions Resources Group (DRG), Medtech companies are working harder to develop and deliver more reliable diagnostic tests or meet the soaring need for ventilators and personal protective equipment (PPE). Biopharmaceutical companies are racing against time to develop safe and effective treatments and vaccines to save lives.
According to University Lab Partners, MedTech companies specialize in the invention, creation, and production of medical devices that can be used in all kinds of different healthcare settings. They added that the medical device industry is growing at a rapid pace that doesn't seem like it's going to be slowing down anytime soon. The growth within this industry has mainly occurred because of the increasing amount of the aging population around the world who have chronic diseases. These diseases require new treatments that can be used to mitigate symptoms and support the affected individuals.
Our 30+ years of experience working with the global leaders in biopharmaceuticals and pharma vaccination, paired with our established, nationwide network of talent, allows us to place qualified professionals faster in the ultra-competitive medical and science market. We provide full-cycle support, from navigating compliance standards and market demands, education, background verification, and credentialing. Learn more about our innovative approach to staffing within biotechnology and pharmaceutical here.
In addition to working together to ensure that patients can access care, afford treatments, and learn about the healthcare system, scientists, doctors, and other professionals are working to prepare for the future and forecast the long-term impact of the virus within the world's current chaotic state.
Looking Ahead into 2021
With the COVID-19 vaccine distribution on the rise, there are a few leaders within this space including Johnson & Johnson, Moderna, and Pfizer. According to this article by the Wall Street Journal, Pfizer is anticipating the vaccine to generate about $15 billion in sales this year, making the shot one of the company's top-selling products and potentially a steady source of revenue.
Pfizer said it expects total revenue this year of between $59.4 – $61.4 billion. In the fourth quarter, the vaccine contributed $154 million of the company's $11.7 billion in sales. The U.S. Food and Drug Administration authorized the vaccine—the first to be cleared for emergency use in the U.S.—on December 11, 2020. Revenue this quarter from Pfizer's vaccines overall rose 17%, or $2 billion.
For more information about the similarities and differences between the Johnson & Johnson, Moderna, and Pfizer vaccines, check out this Boston news article, originally found on STAT.
We asked our resident healthcare guru, Jason Guggisburg, Vice President of Adecco Medical and Science, a few questions about the future of life sciences, and what to expect as we move forward in the current pandemic climate. Here's what Jason added:
What are a few trends within Biotechnology, Laboratories, or Pharmaceutical that are worth keeping an eye on?
"Trends that we will continue to see in Biotechnology, Laboratories or Pharmaceutical will be driven by the current global pandemic. We will continue to see a large need for medical technologists, scientists, and laboratory technologists. With the need for vaccine distribution, I expect this trend to continue through 2021."
In your opinion, what positive efforts have derived from the COVID-19 vaccine creation, quick implementation, and distribution?
"While the world and U.S. craft the fastest way to stop the COVID-19 viruses, we will continue to see countries develop mass vaccination sites and large-scale testing. To have two vaccines and a hopeful third on the way so quickly is a scientific miracle we should all be thankful for."
What inspires you about the Life Sciences Industry?
"I am inspired every day that we are able to help place staff in roles that can change the course of life for individuals. A single scientist in a lab can create a cure for a pandemic, or any other life-threatening disease. This to me is human-centric and health-focused."
At Adecco Medical & Science we support research, development, and testing laboratories across the U.S. We realize that not all laboratories are created equal and that these differences require unique specialization and expertise in finding the talent you need. We offer specialized recruitment hubs that focus on finding the right talent for temporary, temp-to-hire, executive search, program management office (PMO), onsite and large-scale projects. Learn more about our laboratory experience program here.