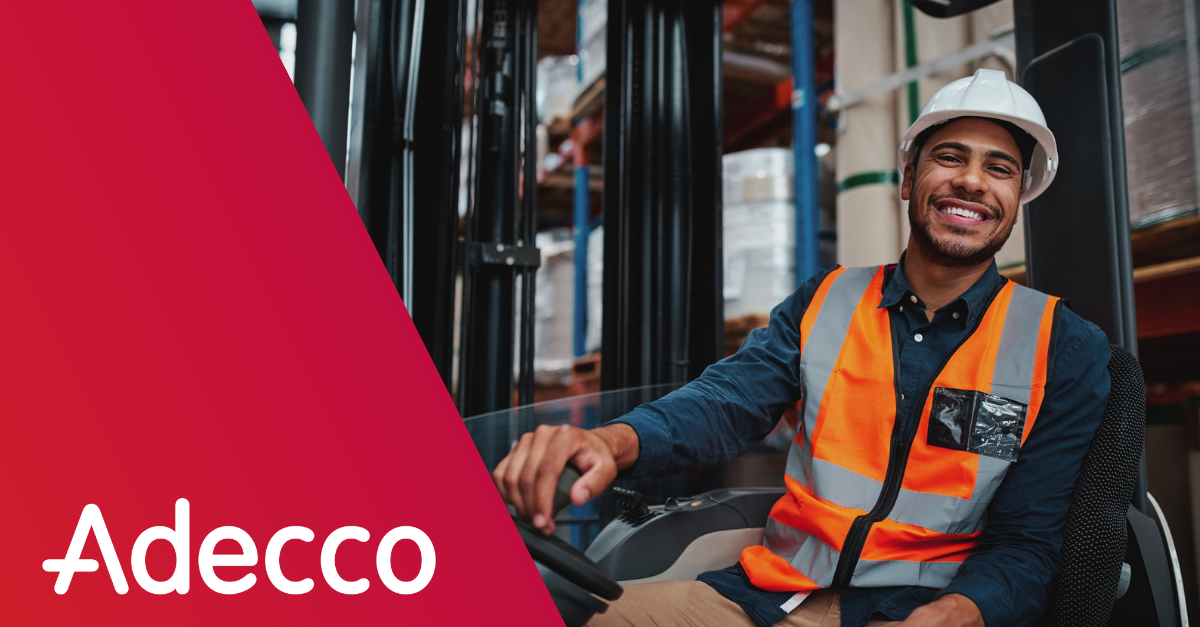 Adecco's Risk Management team is transforming workplace safety and earning industry recognition.
What can a belt tell you about workplace safety? Smart belts, a small piece of tech that attaches and tracks a worker's full range of movement, notes every bend, twist, and turn. For the Risk Management team at Adecco, it's a tool to better understand a worksite and each employee's role.
For lifting and repetitive motions, the most common causes of workplace injuries, these smart belts are used to address a problem before an injury happens – usually with just a simple fix. At one customer site, a belt tracked a worker with a light work responsibility as constantly bending more than 60 degrees, a physical stressor that can lead to an injury. After a closer look, the Adecco team realized that as part of her duty of attaching labels to packages, the worker needed to reach over a large table to get to the printer. The repeated bending throughout the day was fixed by just moving the printer closer to her.
"With the smart technology, we could see there was an issue with body mechanics before she had an injury – and made the change," said Susan Shemanski, VP of Risk Management.
At Adecco, rethinking workplace safety means using cutting-edge tech and tools along with a deep knowledge of safety. Adecco was one of three winners of the 2021 Works' Comp Risk Management Award for Excellence. Named by NU Property & Casualty magazine, the annual award honors innovators in the risk management and workers' comp insurance industries.
Adecco was spotlighted for its partnership with hundreds of clients, providing guidance and a high-quality program to promote safety and implement training at sites across the country.
"We take safety as seriously as our clients do," Shemanski explained. "We feel that's part of our responsibility to make sure that associates are doing jobs correctly and safely."
The team's award signifies their dedication to keeping costs and injuries to a minimum as well as their commitment to the smart approach to workplace safety. For customers, this can help keep injuries off their OSHA logs and avoid compliance audits from the OSHA agency, which Shemanski notes have become much stricter under Biden.
"Compliance auditors come out to make sure everything is perfect, but they're always looking to find something wrong," Shemanski said. "Companies want to keep their workers safe and their workplace running efficiently – and protect their reputation."
Prioritizing behavior-based safety
Using mobile apps, the Risk Management team is able to conduct 6,000 safety visits a year to shine a light on potential workplace issues.
Our experts guide both the employer and workers through how their job can be best performed and how they can avoid any dangerous behavior. The team also conducts job safety analysis, looking at the jobs responsible for most onsite injuries and examining every step of those employees' work process. Recommendations can be as basic as replacing old standing mats, others are a little more surprising. Shemanski recalls one instance where they realized that employee workstations were built to accommodate men's heights and ergonomic needs. However, this specific customer happened to employ a workforce with a high percentage of much shorter women. An adjustment needed to be made in the packaging area to accommodate their workers' actual average height.
In addition to onsite training and videos, the Adecco Risk Management team conducts ergonomic site visits (something which can run $10,000 for customers on their own). The ergonomic evaluations provide key recommendations for safety improvements at a site.
"Now is at a really good time to have a partner like Adecco who is willing to invest in safety – the shortage of workers has made temporary workers a great option for staffing a workplace. It is important to have a partner that can help you improve your safety through a focus on proper ergonomics and behavior-based safety."